Committed to be GREEN! Hand in hand with Plumeria Sun, our sister Hawaiian beach pareo brand (Est. 2007).
are pledged to be green! Aloha, I am Hilo, the designer at Ti & CoCo and Plumeria Sun. My feelings toward responsibility with what I create and offer to my customers growing stronger day by day. Our new arrivals, organic cotton bandanas and Plumeria Sun's eco bamboo beach pareos would be your new eco life style essentials! Visit our sister brand Plumeria Sun online at www.plumeriasun.com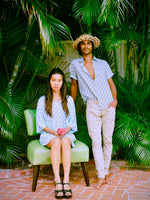 Couple's Matching Outfits for a special occasion
Dress up in Ti & CoCo's eco-conscious matching aloha attire with your loved ones to make any occasion memorable. You can choose your own mix-matched styles to make an event casual or formal. Stand out in our environmentally sustainable fashion for a night on the town, weddings, anniversaries and family events.  
Couple's Matching Outfits